Common Thread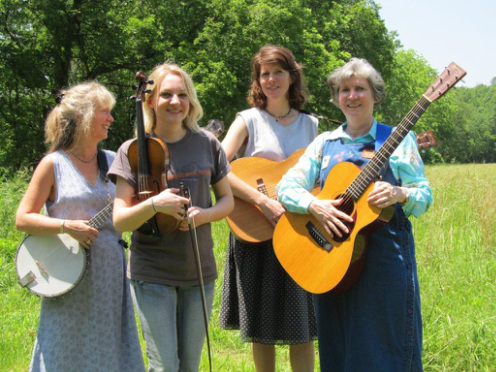 Peggy Browning, Gracie Wallace, Maura Lally & Dixie Jones
Two are from Tennessee and two are from Chicago and they met years ago. This combination of four friends gather together from their respective homes, miles and months apart, meeting each year to play at The Homeplace Pickin' Party in Pryor Hollow, TN and now coming together more often to play and sing together as they are able.
The common thread of music makes friends of strangers. A shared love of songs passed around amongst folks brings these gals together to celebrate the music and the tradition of these songs, as well as the chance to create new sounds together. This combination of four friends reminds us how connective music making can be.
The shared language and love of
songs and sounds is what binds them.
Common Thread is proud to announce their newest cd,
Bushel and a Peck
. The four of them met halfway between Tennessee and Illinois for three days in late autumn. Producer, Peggy Browning captured these 11 songs on 2 microphones beside a crackling fire in a cabin called Windipine, staying true to the sounds they made in those few days.
Land Between the Lakes
•
Pryor Hollow TN
• Saturday & Sunday June 12 & 13 2017 • The Home Place Pickin' Party •
Common Thread
, the Dixie Volunteers, Mark Dvorak and many others • 1840s working farm • bring your instruments! • 931 232 6457 •
www.lbl.org
---